Tomten Kennels & Cattery was founded nearly 50 years ago by Sheila Gee, as a complimentary service to her husband's successful veterinary practice. Raymond Gee moved his surgery from Radlett to his family home in the village of Shenley in the late 1950s, and the kennels provided a boarding service for the surgery's clients, many of whom could not find suitable holiday accommodation for their pets.
In 1996, their daughter, Samantha Gee, took over the running of the boarding kennels and cattery and supervised the design and complete re-building of both the dog kennels and the cattery. Tomten has 28 state-of-the-art dog kennels for all sizes of dog from the tiniest Yorkshire Terrier to the largest Great Dane. The cattery consists of 25 cat houses; 15 for single accommodation, 8 double houses and 2 "suites" for a family group of 3-4 cats. Spacious and purpose built accommodation ensures that boarders at Tomten are provided with the very highest standard of pet care.

The name "Tomten" comes from a Swedish folktale written in the 1960s by Astrid Lindgren. The story tells of a troll - a Tomten - who watches over all the animals on the farm where he lives. People do not see him but, during the long, cold nights, the Tomten keeps the animals safe from harm, and even gives the hungry fox, who comes prowling, a bowl of porridge. We think that "Tomten" is a very appropriate name for an establishment specialising in protecting and looking after our clients' precious pets.
Our existing client base is wide and varied. Some of our clients are local residents who have been bringing their pets to Tomten for years and others have been recommended to us by friends and family. Many clients have been referred to us by their vets in Hertfordshire, Middlesex and London and some of these vets board their own pets with us, which we like to take as a testimonial to the high standard of care we offer our animal guests!
Kim Clarke, Watford, Hertfordshire.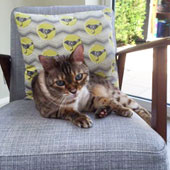 "Tomten has been our first and only choice for cat boarding after we acquired our beautiful, but demanding, bengal cat, Domino. It gives us great peace of mind and a restful break because we know he's being looked after by caring and knowledgeable staff. The setting and grounds around Tomten are so pretty and well maintained, the parking is easy and there is a Veterinary Practice next door for further peace of mind, if ever required. The booking process is simple. Leigh always responds to emails quickly which makes life so much easier when trying to arrange holidays around pet-care. Domino always settles back into home life quite contentedly after his 'holiday' at Tomten, we know that he's been so well looked after and given plenty of attention, which leaves us guilt-free to look forward to our next break away!"
Read more
Anne Chapman, Hertfordshire.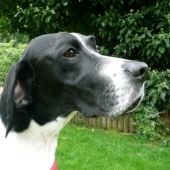 "We just are glad that we have you to take Dora – life would be very restricted otherwise. She always comes home from you looking clean, shiny and smelling gorgeous!"
Tracy Rapkin, Bricket Wood, Hertfordshire.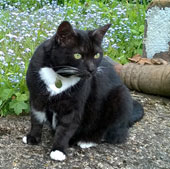 "We were a little apprehensive about putting our cat, Keisha, in a cattery as she's a rescue cat and had been in and out of the rescue centre three times! We've no idea why she kept ending up back there because she's a lovely, friendly, fun, (sometimes naughty!) cat who spends most days and nights lounging around at home. As soon as we got her, we started the search for a cattery because the alternative would mean no holidays for us! We found Tomten and haven't looked back. Keisha is more than happy to stay there and is always so well looked after that we wouldn't want to take her anywhere else. Some years, due to work commitments, she's had to have two or three 'holidays' at Tomten and every time, she's been happy and well-loved while there. We love the fact that they two levels in each 'room' which means they can hide away if they want to or mooch around plus it means their litter box isn't near their beds! Her fur always looks so glossy when we pick her up as she gets groomed so much while there, she loves it! If we are ever in a position to have a dog, Tomten would again be our first choice."
Read more
Mr F G Hurley, Borehamwood, Hertfordshire.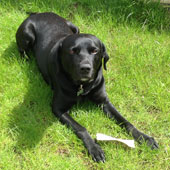 "I would like you to know how happy we are with using Tomten Kennels. Smudge, our Black Labrador, has stayed with you numerous times and every time comes back in lovely condition. He seems to be very happy staying in your kennels, and always loves to come back."
Nicole Sochor, London, NW3.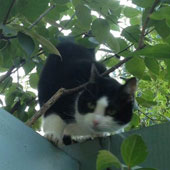 "Thanks to Tom Ten Cattery we go on holiday confident that Lily, our black-and-white shorthair cat is enjoying a break from us at her 'cat hotel' - Lily has stayed at Tom Ten for several years and returns to us sleek, well-fed and relaxed. We are confident that Lily gets good care, and the cattery is careful to check that medical details and vaccination records are up to date."
Read more
Marion R - Stanmore, Middlesex

"TomTen Kennels are the second home to our beloved Bassett Hound Florence and little Cavapoo Sophie!!! I cannot praise the staff enough especially Leigh and owner Samantha for their love and devotion to our precious furry children!!! They allow us the freedom to go on lots of mini breaks knowing that our doggies are fed, cuddled and walked and don't forget the underfloor heating!!! Thank you TomTen!"
Read more
S.E & Jemima the Cat, St Albans area.


"Having been a regular customer at Tomten for about ten years with two successive cats, I wouldn't hesitate to recommend their care. Being able to leave my cat somewhere I feel is safe, comfortable & very caring gives me vital peace of mind knowing she will be wonderfully looked after. The added support of veterinary care next door is also important, (though thankfully never needed so far).The team at Tomten in my experience are always friendly, accommodating & entirely trust-worthy, as well as being experts in holiday pet care."
Read more
Reception Times

Our reception is open at the following times:
Monday to Saturday:
10am - 12noon and 2.30pm - 3.30pm
Sunday:
10am - 12noon only
Outside of these hours, please contact us by email:
reception@tomten.co.uk
Thank You

Many thanks to our loyal clients for choosing us to care for your four legged family members (and some with three).


A warm welcome to clients from Angela's Cattery, which sadly now has closed. Angela's had an excellent reputation and offered a high standard of care. After the closure, Tomten was asked to look after Angela's loyal customers and we are delighted to help.

We look forward to meeting you and your cats. We will do our very best to ensure that holidays at Tomten will be just as good as they were at Angela's. (We have International Cat Care recognition).
Read more

Since 2003 we have been awarded Feline Advisory Bureau approval, now renamed as iCatCare. There are few approved catteries in the area, and this approval indicates the high standard of accommodation and care achieved and maintained at Tomten, which the FAB insisted on before approving a cattery.

Incidentally, cat owners will find the iCatCare website a very good source of information and advice on all feline matters.
Read more